Ya'll, I can't believe it. We really made it through a pandemic summer. It feels wild to be entering into another season, but honestly, Fall is my favorite. The air is crisp, the nights are cool, and it's prime cuddle weather. I find that the transition is easier when we start thinking about what we want for ourselves in this next phase, and most importantly, how we plan to take care of ourselves.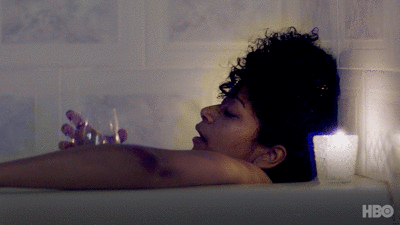 It feels like a good time to stock up on some hoodies, re-up on the black spandex, and revisit our skin care routine. Imagine my surprise stumbling upon Ivory Essentials, a Black owned beauty and personal care brand. A bonus- Ivory is my homegirl from Penn State!
Ivory and I chatted about the important of self-care, and what she loves about making beauty products from the comfort of her home.
What inspired you to start a personal care and beauty brand?
I began experimenting with different oils and natural butters when I went natural (no perms). I started off making hair products for myself. They would smell amazing and feel luscious on my skin. The smell brought me back to nostalgic moments as a little girl. I always used and loved the smell of cocoa butter. I wanted to make a product that made my skin look and feel that beautiful. It was then that I began to experiment with making skincare products including cocoa butter as well as other rich ingredients.
Where do you make all of your products?
Everything is currently made in my home. Before I begin I sanitize my work areas and get into my zone. I also use specific utensils and bowls.
How you do balance being an entrepreneur and a mother?
It is a lot of work! I'm a master of multi-tasking. I'll be helping the boys out with homework, brainstorming new product ideas on top of doing my own assignment for grad school. I make it work, I have to. There's no other option.
Can you tell us about your products?
Yes! I use organic and all-natural ingredients for my products, essential oils as well as locally sourced beeswax and honey. My butter bar is lotion in solid form. It is made to melt onto your skin as you rub it on. It is made with shea butter, cocoa butter, coconut oil, beeswax and essential oils. The sugar scrubs are gentle, smell amazing as well as leave the skin feeling like a newborn baby. My lip balm lasts for long durations, it has the same ingredients as the butter bar excluding the essential oil and smells like chocolate. I also have a variety of oatmeal, shea butter and olive oil soaps. The benefits of using these ingredients in my soaps are: natural exfoliation, to help with inflammation of the skin, relieves eczema and psoriasis, gentle on your skin, moisturization and more.
What does it mean to be Black-owned and why is it important to you?
I usually promote Ivory Essentials as Black-owned as well as Afro-Latina owned; I can't forget my Puerto Rican side. For me, it means to have the accomplishment of being one of the first in my family to create a business. It means also means that I have many watching and looking up to me. This is important to me because I am showing my children, my family and others that look like me that they can create anything and that no idea is a silly one. I get to show my creativity and interests in my business which can lead to the younger generation showing their amazing qualities.
Who is your target audience?
I honestly believe anyone can use my products. Some items are better used on melanated skin, such as the butter bar, because of the rich ingredients but all skin can benefit from it. Some items (oatmeal soap) also cater to those with skin conditions. I want everyone to be able to use my products.
What separates your beauty brand from other personal care brands?
I take pride in knowing that I formulated the recipes to be just right on one's skin. It took much trial and error. My products are simple and include ingredients one can easily comprehend. I don't use harmful ingredients and will veer from that at all costs.
What inspires you?
My family inspires me to be greater. Everything I do is with them in mind. I'm sure many people say this but I truly mean it. I want my children to see that their mommy was hardworking, never gave up on herself or a dream, and showed them what independence was.
How do you practice self care?
With everything that is going on right now in the world its been harder to find time. Quiet time before bed is calming, exercising (when I make time) feels great and making my products is self care, it calms me. Creating, for me, is self care.
What's next for Ivory Essentials?
I plan on expanding with a different variety of products. I'm currently creating and brainstorming. I'm excited about them! Be on the look out.
Please show my good sis Ivory some love by purchasing her products here: https://www.etsy.com/shop/IvoryEssentials