'The Worst' is one of my favorite Jhene Aiko songs.
'Everybody's like
He's no item
Please don't like em
He don't wife em
He one nights em
I never listen, no
I shoulda figured tho
All that shit you was spittin'
So unoriginal
But it was you
So I was with it
And tell you the truth
Wish we never did it'
Basically Jhené is talkin about fallin for a dude, only for him to switch up and not act right. She wanted it to be more than it was, took a chance, and ended up getting her heart broken.
What's so unrelateable about that? I am sure that many of us can relate to falling for the wrong one. At least a few can relate to ending up in a situationship. I was inspired to write a little something about Jhene, after her recent project,'Chilombo' dropped this past Friday.
Black Twitter wasted no time weighing in on the new tunes.
The word 'toxic' has become so overused, it makes one wonder what ya'll are really talkin about here?
Let's look at the definition of the word 'toxic' since ya'll just throwing this word around hella casual as of late.
/ˈtäksik/
1. Poisonous
2. Very bad, unpleasant, or harmful. (ex. a toxic relationship)
Now, all of us have expressed our feelings about Jhene and her on and off again boyfriend, Big Sean. The two started dating in 2016, even recording a whole project together, Twenty88.
"…We worked together as well throughout our relationship. We did songs together and then you know, it just came to a point where it was like, 'I'm single, you're single, we love each other.' We actually already love each other as people and then it was like, 'Okay, let's just, you know, be together. So it was different because of that friendship. That comes first, we're friends before anything. We can bicker like a friendship
(
Big Sean Confirms Relationship with Jhene)
."
In 2018, she covered up the tattoo of his face, and rumors started to fly that they had called it quits. In reality, they didn't break up until March 2019. Since then, however, we have seen them at quite a few events, including Diddy's 50th birthday, and the RocNation brunch.
Recently, Big Sean professed his love and congratulatory remarks to Jhene on her latest album 'Chilombo.'
Jhene even featured him on the track 'None of Your Concern,' which was very…..colorful. It sounds like they both are a little damaged, a little confused, and the sex is good.
Back to the original point, are they toxic? Who is to say? Jhene strikes me as a chick with lots of feels, which she shares freely in her music. This album sounds to me like she's trying to figure it all out. I think it's difficult to not discuss your relationships as a musician, as heartbreak makes for some of the best jams. I think that's why we collectively fuck with Jhene. She just says what she wants to fuckin say. I think they both have growing to do emotionally, and are trying to figure out if they can grow together romantically.
But all of us have been toxic in a past life. Many of us lacked the self awareness and maturity to navigate all the feelings that come from being in a committed relationship. Now imagine trying to navigate all of that in the public eye. Not to mention being a single mother, trying to date, and figure out life. She started dating Big Sean at 27, she got married at 25, she had her daughter at 20. Sounds to me like she just packed a lot of
l

ife
in her twenties, she just didn't do the self-work. Perhaps she is trying to give herself room to learn and grow in this new decade of life. Can't really knock that.
Big Sean has also been open about taking his single time to find himself, and work on himself. He has been public about dealing with depression, losing himself in relationship, and the importance of taking time to be alone.
Sean says therapy helped him get "clarity" on his situation and was able to focus on relationships which had meaning in his life.
"I realized that it all started with me," he says.
"I couldn't point the finger at anyone else, I had to point it at myself, nurture those relationships that were important to me but most importantly nurture the relationship with myself (Big Sean talks about struggle with anxiety and depression)."
Are they together now? Welp, they've posted pics from V-Day at Disneyland recently.
Looks like the two lovebirds are giving this one more go 'round. But let's talk about what's coming up for ya'll.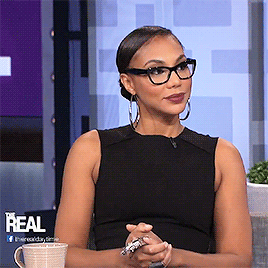 Some of ya'll are triggered by Jhene's lyrics because you have yet to begin your own self-work.
All sis is doing is reminding you. You know why I loved 'The Worst' when it came out? Because some of the fools I dated were
THE WORST
. Let's also not gloss over the fact that she has tracks on 'Chilombo' that uplift, like "Love,"or feel good chunes like "Lightning and Thunder" and "Party On."
Music resonates with us for a variety of reasons. It can remind us of a person or a place, or a time period. I think my good sis Jhene writes about whatever she's experiencing at the time. The good, the bad, the ugly. Overall, 'Chilombo' is a solid album.
"Is it strange for me to say that if I were to die today, there's not a thing I would change? I've lived well. Maybe I have made mistakes and been through my fair share of pain but all in all, it's been okay. I've lived well."-J. Aiko