"You can be a woman who wants to look good and still stand up for the equality of women." – Meghan Markle
It feels like a good time to continue highlighting the Black-owned brands to watch for during this pandemic and beyond. I don't know about ya'll, but being quarantined for months had ya girl lookin' busted for a hot minute. Shoot, I almost forgot I was cute!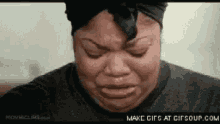 Thankfully, my homegirl Katurrah is coming out with a BOMB lipgloss line THIS MONTH! I'm telling ya'll, her gloss is so fire, it inspired ya girl to start dressing up again for Zoom calls! So I thought it apropos to share the juicy deets on her brand MixedPrints, and why all of ya'll need to be stocking up on all the flavors as soon as you can!
Photo: @BryceLennon
Can you share how MixedPrints came about?
MixedPrints started as a two person fashion blog. A good friend and I both had a serious love for fashion and beauty. So we figured we'd create a blog, give honest reviews on different products and brands while also providing fashion tips and tricks.
What was your motivation to create MixedPrints?
Well with time MixedPrints was all about my vision. So I was able to take over, reevaluate and see where I wanted things to go. I would say having full range and control to be able to put my own creativity into this project was part of the motivation.
Who is your target clientele?
My Black and brown Queens, when it comes to the Mixy Lip Gloss and MixedPrints Fashion blog I want this to be a platform and a home base for inspiration, for makeup, how to dress for a certain occasion etc.
What does being a Black-owned Brand mean to you?
Having a Black business gives me so much pride. It makes me feel proud and passionate. I love that I could possibly be a role model to other young Black women the same way we have Issa Rae, Tracee Ellis Ross, Melissa Butler, KJ Miller and Amanda Johnson ( I can go on and on). It's always good to see someone that looks like you, doing something amazing. I know that we have to work twice as hard but in the end it's all worth it. Especially when you see what you've done and how you actually feel about your business and your work.
What are your hopes and dreams for the brand?
My hopes and dreams for the MixedPrints would be to continually provide a platform for Black fashion creatives. To show people we can come together and support one another. It's not always a competition but more of a collaboration.
What inspires you?
I want to say lack of diversity and how undervalued Black fashion Bloggers and
Creatives are. We don't get enough respect or attention. I've read stories about how we get paid less with sponsorships, less reposts for the same content or outfits that are displayed, not lots of website hits and things like that. I feel we should be pushed to the forefront consistently and creativity isn't valued enough. So recognizing that keeps me going.
How do you balance your business and your 9-5?
It's not easy and I'm honestly figuring it out as I go. I plan things week by week to avoid getting overwhelmed. So at times I dedicate a few hours in the evening to write down ideas, reach out to my photographer and do research to make my blogging better and see what new thing I can create. So I'm big on putting it on paper in the moment. Weekends are really when I put things into motion!
How do you practice self care?
SLEEP. I love sleep and anytime I can get it, I will. Taking a good 20 minutes to stretch my body right after I wake up. Journaling and listening to my fave genre of music, 90s R&B. Lately I'm big on listening to my body, my spirit and giving it what it needs. And we cannot forget about therapy! It's necessary.
What are you currently working on at MixedPrints?
Creating new content for the upcoming fall season which happens to be my favorite, and getting ready to launch the Mixy Lipgloss.
Advice for aspiring entrepreneurs?
Do your research, don't compare yourself to others, and make sure to be consistent in all that you do. Find what you love, do it, be patient, stick to it, and watch it flourish.
Be sure to follow @mixylipgloss and @mixedprintsllc for fashion inspo and support a Black Business!